ORIGINAL
When we talk about originality, we often hear "what is different from the common, stands out of the ordinary."
But the word has also a deeper meaning: "something that comes from its author or its source, which is not a copy, a reproduction, a translation, a recast, a reinterpretation..."
G. Kero's pieces and drawings are originals in both senses of the word. There are the creations of an artist Marguerite Bartherotte, signed with her artist pseudonym "G. Kero".
G. Kero is not a brand offering impersonal and anonymous prints.
You know where it comes from and who designed the pretty drawings you are wearing.
When you wear a shirt or a blouse printed with small surfers, you wear an original piece.
Marguerite Bartherotte aka G. Kero created this graphic composition in 2013 with the idea of multiplying the small surfers by sequencing them like freeze-frames in different positions, removing all the decorative features that we were used to find on this type of subject (palms, sea, animals etc.).
This graphic composition is the figment of her imagination and her artistic research.
There were no similar garments before this model was created by G. Kero.
You will now find numerous imitations of these little surfers as well as many imitations of others original drawings by G. Kero, for example of her dancers, her skiers (that has been recently seen on Chanel woman shoes), or her beach surfers, but when you wear G. Kero you wear the original piece.
If you pay close attention to details, you will immediately notice the richness of the graphic composition, its freshness and spontaneity.
When you buy G. Kero you are not simply a customer, a consumer, your are a collector.
And we thank you for encouraging and promoting artistic creation, independence, freedom and originality.
Numbered editions
Inside each G. Kero's piece there is a label with : the number of your piece, the total number of edited pieces, the year of edition
This to make our customers aware that they wear a rare garment.
This to make our customers aware that they wear a rare garment. This because it is the natural result of being small (a confidential and independant label). This because we want to encourage a buy less but better spirit.
Each of us is unique, why shouldn't we be allowed to wear unique clothe ?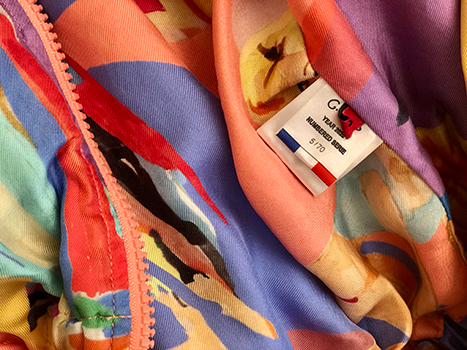 Designed in France, printed in Italy and manufactured in Portugal in environmentally friendly workshops.
All the drawings of the brand are created by the same artist, Marguerite Bartherotte alias "G. Kero" and this is quite unique in fashion. Marguerite draws the collections in her workshop in Cap-Ferret, or at her friends' places. Bohemian artist always on the move, she also creates during her travels.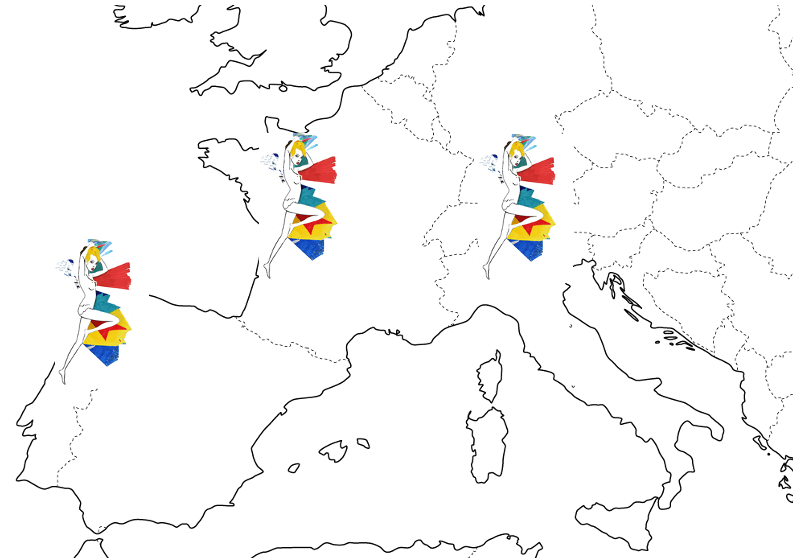 The drawings are then printed on high quality materials by one of the best print house in the world in Italy who also print the most famous high fashion brands since the 50's such as Hermes, Chanel, Valentino, Yves Saint Laurent. We are the only ready to wear brand to print there as far as we know.
These materials are then sent to Portugal to be manufactured in environmentally friendly and human-scaled workshops. These workshops are exclusively family workshops with whom we have friendly relations.
We remain faithful to these workshops which are manufacturing our creations with passion and love their craft.
We do not seek to obtain the lowest prices from them, but rather favour a fair price, quality and human exchanges.
No sales
In view of the strong impact of industrial activities on the planet it is unconceivable to keep producing unreasonably.
We became aware of this as soon as we started our project.
This is why we avoid overproduction, produce little, and do not encourage excessive consumption through sales and discount when a season is over.
We consider the pieces we create as atemporal works of art.
Out of respect for our art, our work, and those who spend time manufacturing our collections, and out of respect for those who finally buy and wear them, we avoid devaluing our creations by going on sales.
To buy less but better is the action for the environment that we want to encourage.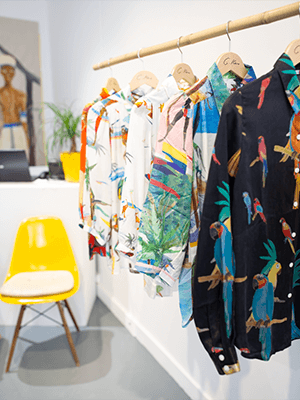 No advertisement
Since we started G.KERO we have never advertised.
We rather make beautiful and quality collections with an ethic and get known by word of mouth with the support of people who really love our creations with a true love.
Charities
Since we started G.KERO every year we donates about one hundred pieces to charities in order to raise funds to help the most needy. We are proud to participate in the good deeds of the Arcat foundation, fighting against AIDS, Charitic Angels who raise funds for many humanitarian organisations...
If you have generous ideas or if you would like to propose partnerships of solidarity, please contact us : contact@gkero.fr
The key words of this project are freedom, truth, harmony, and beauty.