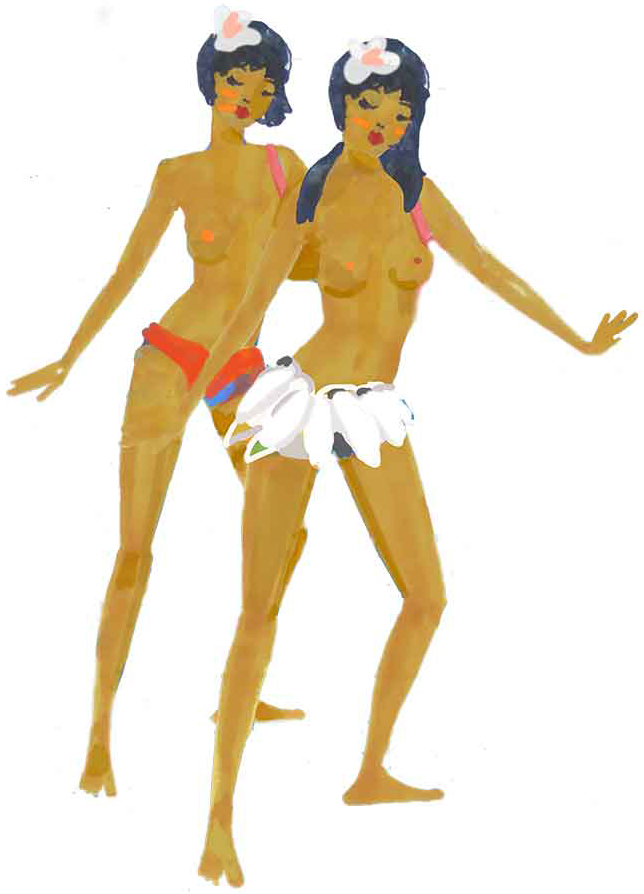 While searching for a fresh alternative to gallery canvases artist Marguerite Bartherotte aka "G.Kero" turned her hands to fashion.
Reworking garments into original creations that blur the border between art and fashion.
G.KERO is the result of Marguerite Bartherotte's vision to transform high quality fabrics into technicolored statement pieces.
"G.Kero" is the pseudonym of artist Marguerite Bartherotte. It is a childwood family nickname.
Marguerite grew up with six brothers and sisters in a beach house located at the end of a sandy peninsula in Cap Ferret south of France, a place where tumultuous ocean waters meet the calmer waters of the Arcachon bay.
In the late 1970s, her parents built wooden houses on this sandbank. This was their way of carrying on the spirit of May 1968 while everyone else went back to work. Step inside and you will find 18th century furniture alongside guns, chainsaws, antiques, and many books on art and photography. It was in this library at the age of 6 that Marguerite discovered Adieu l'Afrique by Mirella Ricciardi. This book was her first source of inspiration, and this is where she learned to draw her unique dancing characters that are now one of her trademarks
How it started ?
While traveling in Rio de Janeiro, Brazil, her brother Philippe was looking for an original tee-shirt to wear but could not find any in the shops.
His sister was studying cartoon motion at Lacambre an art school in Belgium. He asked her a drawings and had it printed onto a white tee-shirt. When seeing the result Marguerite was enthusiastic. It was the opportunity she was expecting to jump into the real world. She left her school and started painting right onto tee-shirts for her friends many of whom were young musicians.
Quickly everybody around were asking for a customized tee. Brother and sister created the brand with a friend in 2011.
The designer came to light when Kate Moss was seen rocking her « Couple X » shirt en 2014 (a poetic couple making love shirt) as well as with her « spaceman shirt » (a David Bowie inspired shirt).
The unique and graceful portrayal of these colourful characters which has been much imitated since but never equaled is part of the G.kero brand signature.
«I started by drawing handsome boyfriends that I didn't have, and then I drew pretty girls on my boy friends T-shirts.»
The artist stroke is instinctive fast and without retouching since she draws with felt and paint brushes.
Her drawings are naive and mature at the same time graceful and powerful.
The artist performances pays tribute to the world before consciousness. The world of childwood. The animal world and Nature and their echo in music: rock'n roll and punk music.
G.Kero's prints stand out from others because they are a true performance and not a decoration. Painting on fabrics gives these drawings a sense of beauty and unique depth. This bohemian artist usually paints her collections in her friends' homes and willingly shares stories of her encounters.
The fabric are printed in Italy best print house and then crafted in small family workshops in Portugal with the utmost attention to detail.
They are edited in numbered and limited serie. G.KERO is a true artistic expression that conveys freedom and inspiration to live a daring and spontaneous life.